GOLD Forum 2017 - Vienna, Austria
"
New Ways for the future – Looking back and thinking ahead
"
The Global GOLD Forum Event 2017 was held on the 12th of April in Vienna, Austria.

The 11 new and 2 Renewal GOLD Forum Members shared their good practices during the Tobacco Free Preconference at the 25th International Conference of Health Promoting Hospitals and Health Services (HPH).
Members showcased how high-level implementation of the Global 8 Standards can be achieved by a variety of services within cultural and legislative environments. Motivation and inspiration was gained from the many experiences shared by all of the GOLD Forum Members.
Key lessons from the day include:
commitment at the highest level as vital from the outset
leadership as a critical element at all levels and;
engagement and recognition by health professions that tobacco management is an duty of care and an essential requirement for quality service provision.
Gold Forum members 2017
Kaohsiung Veterans General Hospital 高雄榮民總醫院
E-DA Hospital - 義大醫療財團法人義大醫院
Chia-Yi Christian Hospital - 戴德森醫療財團法人嘉義基督教醫院Cardinal Tien Hospital- 天主教耕莘醫療財團法人耕莘醫院
Hospital Universitari de Vic
Clínica Sant Josep, Althaia
Hospital Universitari de Traumatologia i Rehabilitació de la Vall d'Hebron
Hospital de Campdevànol – Comarcal del Ripollès
Colac Area Health
Alfred Health
Fontane-Klinik
Renewed Members
Cathay General Hospital - 國泰醫療財團法人國泰綜合醫院
Institut Català d'Oncologia, L'Hospitalet (ICO)
VNSHS Members receive international
"GOLD"
recognition in tobacco control
Alfred Health and Colac Area Health are among the few health services internationally to be awarded the coveted Gold Forum status by the Global Network of Tobacco-free Healthcare Services.
The annual award recognises high performance based on the eight Global Standards, which set out a systematic evidence based approach to tobacco control within healthcare services.
"As the current Coordinating Centre for the Global Network of Tobacco-free Healthcare Services and the associated regional network, Barwon Health is proud to have accompanied Alfred Health and Colac Area Health on their journey," said Dr Rudi Gasser, Barwon Health Occupational Physician and Board member of the Global Network.
"Both health services have been long standing members of the Victorian Network of Smokefree Healthcare Services (VNSHS) and have shown enormous commitment and persistence in this challenging area."
Read the full media release.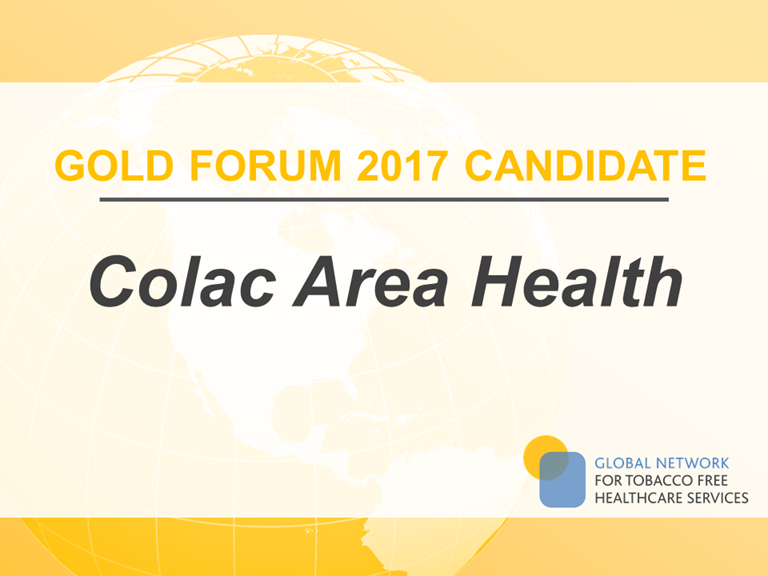 Colac Area Health has, with the establishment of a smoking cessation clinic in 2005, demonstrated an early and strong commitment to eliminating or reducing harm caused by smoking tobacco/using e-cigarettes or being exposed to second hand tobacco and e-device vapours, both within the health service and in the community at large. Smokefree health service policies have been developed over these years, and the organisation is now implementing further strategies to meet the ENSH Global Network for Tobacco Free Healthcare Services Standards.
The organisation deserves recognition for its early and continuing actions towards a smokefree healthcare service, including in the areas of governance, communication, education and training, provision of clinical care to smokers, tobacco free environment, creating a healthy workplace and engaging with the broader community.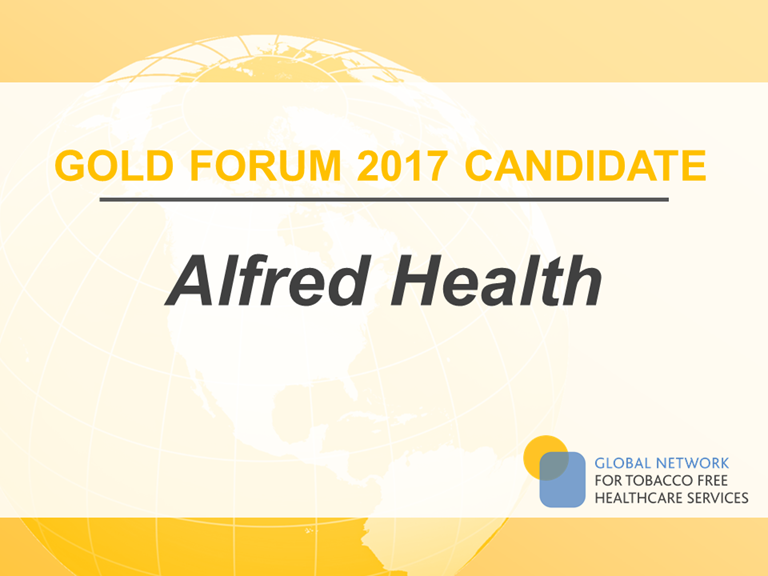 Alfred Health is one of the main metropolitan services in Melbourne, Victoria and has shown considerable leadership in the area of smokefree for a number of years. This is evident in their well-integrated support for patients, their ongoing efforts to maintain a smokefree environment, and their involvement in a wide range of activities that support smokefree efforts in the broader community, including among other health services.
Alfred Health have demonstrated innovative approaches in a number of areas, including in education and communication, and in their efforts to engage consumers. Their smokefree initiative complements a comprehensive health promoting health services approach.